In December 2013, Evergreen International ceased activity. Awkward timing: their Supertanker, which was stored in Marana, Arizona, had just been promised a "call when needed" contract with the US Forest Service. And these last few years, Very Large Air Tankers (VLAT) which had been awarded call-when-needed contracts have proven very useful, and sometimes even more profitable exclusive contracts came after hard-working seasons.
To be a candidate to these contracts, Boeing 747-100 Tanker 979 had to get back in the air, which needed to find turbojets and perform a C check maintenance operation, a full inspection of the airframe, engines and systems. The whole operation would cost an estimated $1 million; Evergreen postponed the check for a few months… and went bankrupt in the meantime. The aircraft remained in Marana while her owner's assets were auctioned.
According to the terms of the potential USFS contract, the plane was to yield $75'000 each day it was activated, plus $12'000 per flight hour, and fuel and retardant were to be supplied by the federal organization. Even though USFS promises can be fluctuating, these terms were very attractive. Therefore, former Evergreen employees, most of them deeply involved in the Supertanker project, created a new, dedicated company: Global SuperTanker Services, LLC. When Evergreen was liquidated, they bought the pressurized drop system, spare parts and patents. They also acquired a younger, more efficient aircraft: the new Supertanker, third of its kind, is based on a Boeing 747-400.
N744ST (cn 25308, the 885th 747 to be produced) was built in 1991 as a Boeing 747-446, and first flew on 25 October 1991. Delivered to Japan Airlines the following month and registered JA8086, she would be flying passenger service until 2010. She was then bought as N238AS by AerSale Inc., a company dedicated to second-hand aircraft market, which turned her into a 747-446(BCF) freighter and sold her to Evergreen (as N492EV) in 2012. In November 2013, when Evergreen ceased operations, she was put on storage in Victorville, California.
Global SuperTanker Services chose a 747-400 because of its improved efficiency. 25 years have passed since its inception: the time has now come when big airlines start selling aircraft of this type, and airframes which still have some potential become affordable. N744ST has flown 75'000 hours; a properly maintained 747 can log 100'000 flight hours, which lets her some 25'000 hours to live. As a tanker seldom flies more than 500 hours a year, she could remain active for decades.
With new, more powerful engines than the previous Supertankers, this new aircraft can take-off at a maximum weight close to 400 tons, but she probably won't meet this weight very often in her new career. Therefore, she will have a more favorable thrust-to-weight ratio, which is obviously interesting for this mission. Her more modern conception also implies rationalized maintenance processes, which will reduce immobilization times and cost for these essential operations. The 747-400 also has a "glass cockpit", with standard navigation, systems management and operating systems conceived for a two-man crew, while previous Supertankers needed a flight engineer to face the workload of planes conceived in the late 70s.
After being bought by GSS, N744ST quickly went through a C-check operation in Victorville. On 23 January 2016, she flew to Marana, Arizona, to get her modern, gleaming and spectacular new painting. She was christened Spirit of John Muir, after the famous Scottish-American writer/adventurer — who was also a naturalist and a pioneer in the environmental movement.
Her now permanent base is in Colorado Springs, but her first public display was on 22 March 2016 in Sacramento: she was the great attraction during the Aerial Fire Fighting conference, held on McClellan airfield.
During her painting stay in Marana, the release system taken from the first-ever Supertanker was also installed. This needs a bit of an explanation. During the adventures of Evergreen's Supertankers, two successive tanks systems were conceived. The first one was made of steel and installed on pallets, so it could easily get in and out through the nose door of a Boeing 747-200F, keeping the multi-purpose abilities of the type. This was not possible for the former passenger 747-100s, so Evergreen conceived a new, lighter, aluminum-built mechanism, which was permanently installed through the side cargo door. When the second Supertanker was stored, the whole system was taken off the plane… and when Evergreen was liquidated, it was nowhere to be found!
Consequently, when GSS bought Evergreen's fire fighting assets, it included only the first dropping system, which had been cleanly stored in Marana. So it is this one, cleared of its now useless pallets but retaining its 75'000 liters capacity, which was installed in the new 747-400.
As the drop system was already approved by the FAA and the Interagency Airtanker Board in the Forest Service, the adaptation should by quick and N744ST could be a candidate to operations as soon as this summer. The first ground drops were made on 30 April 2016 and the next day, she made her first test flight and first aerial drop.
Her crew consisted of Cliff Hale, GSS chief pilot and more importantly former Evergreen Supertanker captain — the man who flew more than 90% of trial and demonstration flights, as well as every operational drop. His first officer was Tom Parsons, an experienced tanker pilot who has flown with Neptune Aviation. A third seasoned pilot has also been hired: in the process of extending his type rating, he was put in charge of rough terrain testing.
For most passenger or freight missions, Boeing 747-400s require only a two-man crew, but fire fighting is another deal. GSS invented a third crew member, named Drop System Operator. Bob Soelberg, GSS Vice President and Supertanker program manager, explains: "Global SuperTanker has felt from the beginning that both pilots need to be focused on flying and communications, not drop system set up. For that reason, we have modified the flight deck to allow Don Paulsen, our Chief Safety Officer and former flight engineer, to act as our DSO."
Settled in the center jump-seat, Don Paulsen will be responsible for selecting the proper settings for the retardant release system, according to the situation and the requirements from the authorities, and then tell the pilots when the device is ready to drop. In Evergreen's Supertankers, the flight engineer was in charge of the release system, with some information also displayed on the cockpit's center console; on the new installation, everything was designed to be in the DSO's reach. This new job could be offered to former flight engineers as well as seasoned air mechanics, with a proper DSO training course still to be approved by the FAA; meanwhile, a second DSO has already been hired and should also be trained as a first officer.
This new aircraft also has important room for improvements. For example, Supertanker operations not only need an airfield with a long and resistant enough runway; they also need an air compressor, necessary to the pressurized release system. GSS thinks about installing two compressors aboard, so the plane would be able to arm her equipment on her own. New wiring was pre-installed for potential new equipments, notably for new data management requirements — thus, the Supertanker could offer a load of technical data about it systems as well as its structure. Yet, these modifications are a future matter and the aircraft currently still conforms to Evergreen original STC: according to Bob Soelberg, "some pre-positioning of components will allow us to respond to future requests for various data output. This decision [not to make new installations right now] was based on the lack of clear guidance on which system would be most common among the various agencies, as well as our desire not to delay the FAA STC process."
When the second Supertanker came in Châteauroux, France, in July 2009, Evergreen was already considering night operations, thanks to the craft's ability to drop higher than conventional tankers and avoid risks of flying too close to the ground. GSS is also working this way and has already made some preliminary studies in that regard, analyzing experience from L.A. Fire Department helicopter pilots, who have been flying by night for years. To add night VFR capabilities to the Supertanker, many evolutions are considered, such as installing enhanced vision systems or modifying the cockpit so it could be used while wearing night vision goggles. No decision has yet be made, as it is still a long-term evolution project.
Amongst VLATs, the Supertanker is also unique in being qualified to work on oil spills, Evergreen having entered this market after the Deepwater Horizon disaster: N744ST will be able to release oil dispersant as soon as she'll be certified. Since the dropping system is made of two individual, parallel, independent 37'500-liter lines of tanks, GSS says she could even work as a fire suppression tool and an oil dispersant vector at the same time. From its base in Colorado Springs, she could reach the Gulf of Mexico within 3 hours and get anywhere in the world in about 20 hours; as says Bob Soelberg: "Our niche is the ability to respond quickly to areas of the world where local capabilities are limited."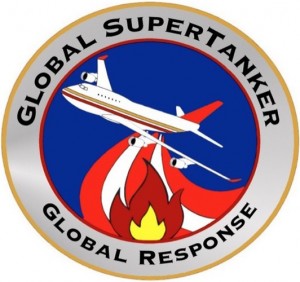 In the near future, certification should not be a problem and the main question is: will the USFS, which still lacks some fire fighting aircraft, honor the promises made to Evergreen in 2013? That is the hole point, though GSS is also talking to Australia (who has been successfully using one of 10 Tanker's Douglas DC-10s for the last two years) and to the European Union's Emergency Response Center.
Evergreen's history has shown that such a huge plane seldom finds missions big enough for her. Yet, these last few years (and especially the very rough 2015 season) saw very impressive fires and asked for an intensive use of VLATs; particularly, the three DC-10s belonging to 10 Tanker, LLC have proven more than useful. Can the new Boeing 747-400 be a better match for the next years fires? Will the Forest Service follow up on GSS's arguments? The next few weeks will be decisive for this exciting project.
Translated by Franck Mée